Once you've decided that you want to hire some remote employees, it's time to start with a remote hiring process. These are the steps that we take for each new employee that we hire.
Filling up your pipeline with remote candidates
You want to attract remote candidates to your openings, which shouldn't be a difficult thing to do. First, make sure to have a great-looking career page on your site for all your openings, stressing that they are remote. Explain what kind of remote work you offer (fully remote, remote-first, etc.) and how you function as a remote team – your candidates will want to know.
The second thing you want to create is an attractive job ad and post it to some remote job boards. There is a list with over 50 remote job boards here so you know where to get started. When it comes to writing a juicy job ad for remote roles, the guys at Basecamp have one trick - work in the position for a week before writing a job so you know what the position entails. This helps them write more accurate and enticing job ads.
Moving on, you want to get on social media. Many of the candidates we hired came from posts and ads we ran on social media platforms. You can also find an article here on how to hire using Facebook and another on how to hire with Twitter. Also, we've used Instagram for attracting candidates and worked amazingly well for finding and hiring developers.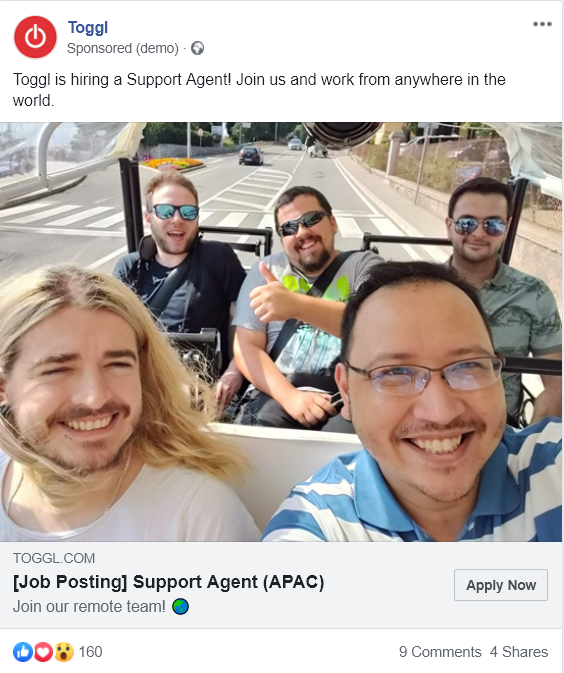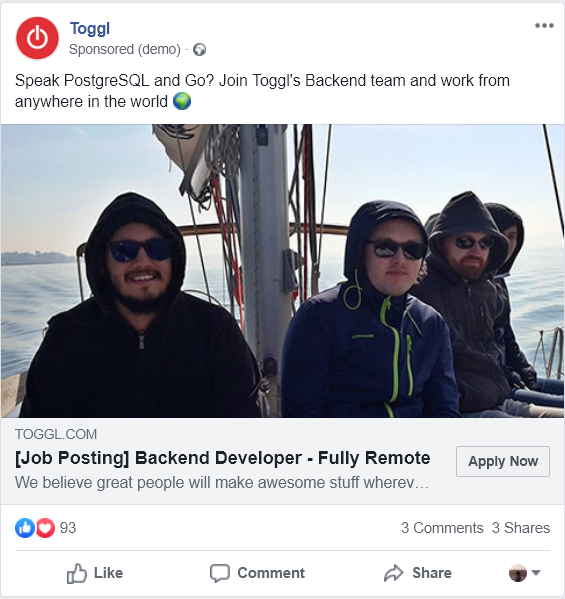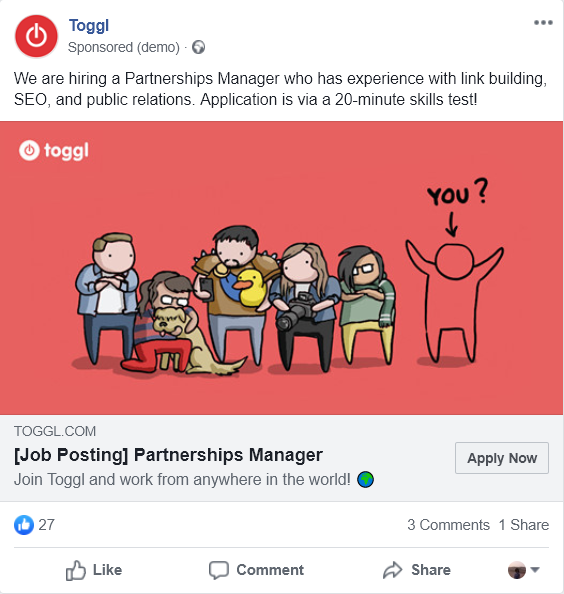 You also want to make good use of employee referrals. We've written a handy guide on employee referral programs for you to take a look at too. The basic premise is that you want to get recommendations from your existing employees about new candidates so that everyone involved wins. Moreover, Remote.co has a great guide on employee referral programs specific to remote environments.
The nature of the referral process that we have makes it very efficient to get new applicants. When your employee refers someone for a position, they don't just ask for their resume. Instead, your employee sends them a link to the test which the potential candidate can then take. This makes referrals less awkward and more successful - candidates are much more likely to take a test than send in an application for a job with an unknown company.
Next up, you will have to do some digging around to find your ideal candidates. You can start with LinkedIn and go further, looking for top performers who also work remotely. We wrote a handy guide on the best sourcing tools to get started with this endeavor, too.
We strongly recommend listing a salary range in your job ads for remote roles. Since salaries differ from country to country, you want to avoid any miscommunication from the start. The candidate needs to know whether it's worth applying at all instead of going through five rounds, only to find out the salary doesn't work for them.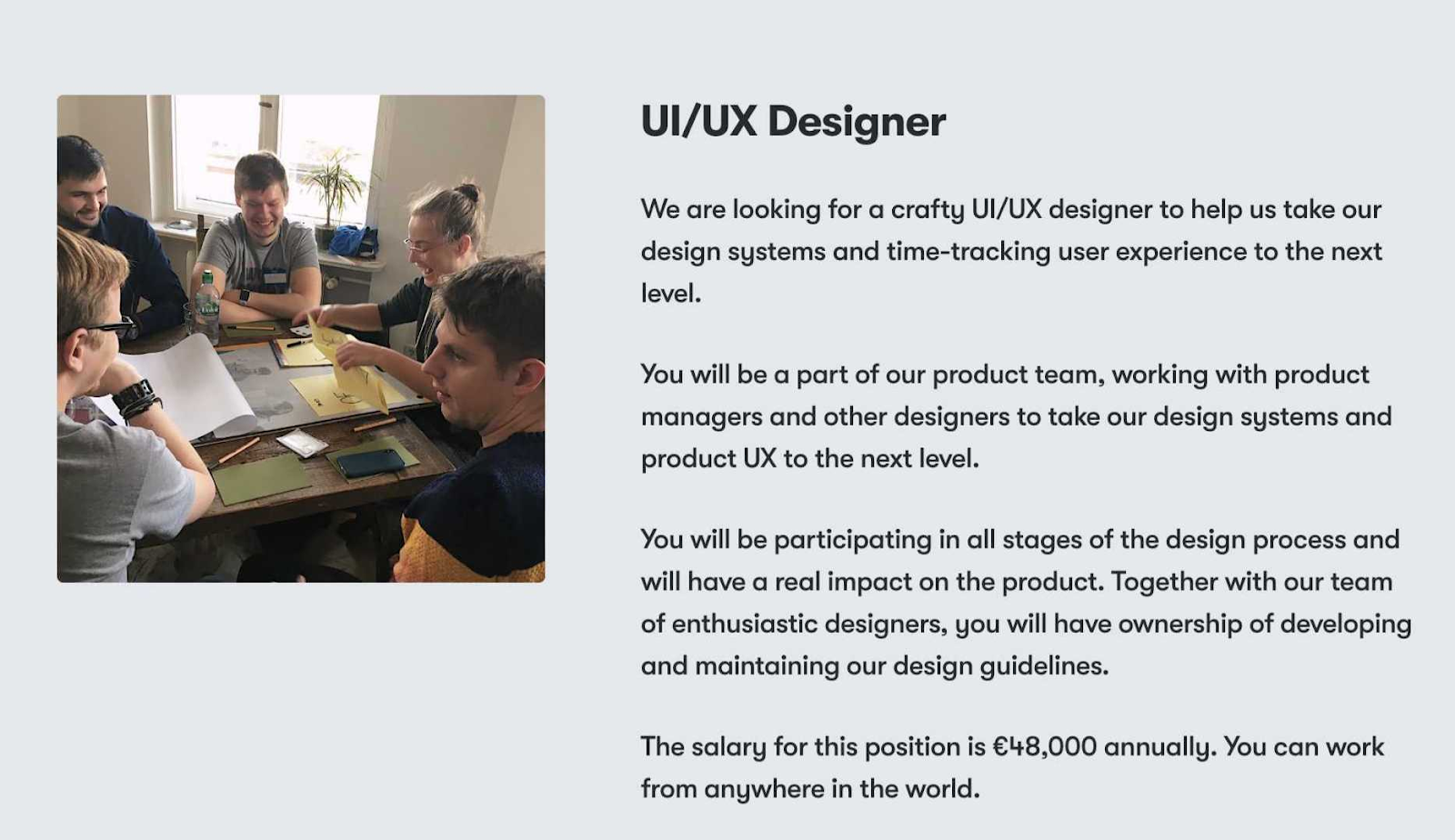 Narrowing down your talent pool
From the initial 1,500 candidates who apply for each role at Toggl, we need to find a way to quickly eliminate those who are absolutely not a good fit. We first started out by reviewing candidates' resumes. As you can imagine, reading 1,500 resumes takes quite a long time and it's far from ideal.
For this reason, we came up with Toggl Hire, to quickly screen remote candidates. Moreover, we don't recommend using resumes in your hiring process. They take too long to review, they don't show the candidates' real skills, the candidates can "twist the truth" on them… It is far from a reliable hiring tool. However, even if you decide to keep resumes as a method of hiring, do not rely on them as your primary tool.
Instead, we suggest using pre-employment skills tests like Toggl Hire. These are created to test the candidates' actual abilities to do the job. Applicants get questions and tasks pertaining to their future role and the app automatically grades them. As the employer, you can see all the candidates that took your test, along with their results. You can also take a look at their individual answers.
So far, our clients have tested for a variety of different roles, from sales, marketing, development, quality assurance, and many others. While the roles differ, the tests have one thing in common: they test for practical knowledge of the job. The candidates either solve tasks or answer questions related to their future roles.
Alternatively, you can set up tasks for them manually, much like Zapier does. For example, one of the tasks for the position in business development was to state how the candidate would get in touch with the CEO of Slack and the chief editor at Lifehacker.
As for soft skills – you can get a rough idea using a pre-employment skills test with some basic profiling questions., Granted you'd get a much better grasp on their soft skills in later stages of the hiring process — over a video call, for example. The initial test has the purpose of eliminating the majority of candidates who are not qualified to do the job at all.
However, you can look at the cover letter, if you decide to use it as a way to assess candidates. Companies that hire using our software state that they closely review each cover letter to figure out the motivation behind the job application. You can usually tell from the cover letter what the candidate hopes to get - an "easy job from home" or a legitimate career opportunity. Some modern teams have replaced cover letters with video screening.
Interviewing remote candidates
Once you have a handful of your best candidates, you want to invite them for an interview. Besides the usual interview preparation steps, interviewing for remote roles requires a few extra steps. Primarily, make sure to mind the candidates' time zones when setting up an interview.
Prepare a list of questions to ask, including a few regarding remote work – whether the candidate has ever worked remotely, how they feel about independent work as a remote employee, etc. It's a prime opportunity to discuss the results of their test and ask why they've given the answers that got them through to the interview stage.
Sometimes, if we're hiring a developer, we will ask them to do a live coding test. Live tests are possible for other roles too - our customer support candidates are tasked with writing emails to sample user questions. It is crucial to let the candidate know that they will have a live test before they show up. These tests usually last for an hour for each candidate.
At Toggl, we have at least one round of interviews before inviting the candidate over for a test week (more on that later on). The interview is done through video and the team lead is the one doing the first round.
Homework, assignments, test weeks
If the candidate has done well in the interview, you might want to take them for a test run before offering them a position. One way to do this is to give them "homework" – a task that takes a few hours to do, which they can do at home and send in to be reviewed. For example, for the role of an SEO manager, the candidate would write a landing page or come up with a list of keywords to target. The aim of the homework or assignment is to see how well the candidate copes with an actual task.
At Toggl, we have test weeks. If the candidate has done well on their test, interview and assignment, we want to make sure they're a good fit for the team. We give them a paid test week – five days to do the work they would usually do in this role. The aim is to see how well the candidate does their potential job and how much they fit into the team culturally. The test week is always paid, the tasks are meaningful and represent the work they would do when hired. Finally, candidates are given only the amount of information that they need to get the job done.
From the candidates' point of view, the experience can be exhilarating. Here is an account of one of our employees who got a job on accident by applying through a Facebook job ad.
For an interesting story on test periods, check out this article by TaxJar. They found that test weeks are an excellent way for the candidate and the company to see if they are a fit for each other.
Making the offer
The candidate has done everything right so far and you're ready to make an offer. However, there are a few things you may want to know before going any further.
First, there is the issue of contracting vs. payroll. Many remote employees are contractors – registered freelancers in their own country, who pay their own taxes. This is an easier solution but it puts a lot of responsibility on the employee when it comes to paperwork. If you're fully remote across the world, this may be your only choice.
You can also put your employees on a payroll, the same way you would if they worked in a traditional office. This way, the company does all the work and the remote employee gets a paycheck every month. This works best if the company and all of its employees are in the same country. Otherwise, it's an administrative mess.
When it comes to compensation, there are two paths you can take. First, you can pay the same salary regardless of where the candidate comes from. This is what we do at Toggl, and the team at Basecamp follows the same logic. We display the salary for each position in our job ads – this will attract a larger number of candidates. At the same time, it can put off candidates in affluent countries such as the USA or Switzerland where the salaries are generally higher.
Alternatively, you can pay based on the location of the employee, similar to what Buffer does. Also, GitLab has a similar setup where the final salary is calculated based on a variety of factors, including location, contract type, seniority, experience, etc. This will take a bit more time to figure out but it is important to have a process in place that you can refer candidates to.
Once you've made an offer and the candidate has accepted, it's time to think of onboarding. The way you onboard your remote employees will make a major difference in how they perceive your company from the start and how likely they are to stick around. Start by personally introducing the new employee with everyone in their team (and company if possible). Within the first day, set them up with their own email address and other relevant company accounts. Now it's time for the new hire to start working independently. For more on remote employee onboarding, check out this article.
Finally, do make sure to have a written record of all your company policies, especially focusing on the aspect of remote work. Your new hires will have various questions about how, where and when they work, so it's a great idea to have a document with all the relevant information in one place. You can share it with new hires and have it as a handbook as they continue working with you.